The queen, 1971
Da série Londres / From the series London
Esmalte sintético sobre tela / Synthetic enamel with spray gun on canvas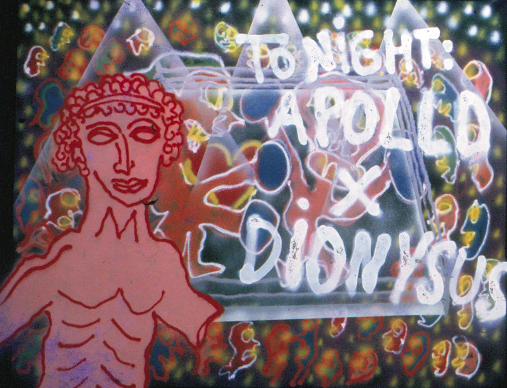 Apolo e Dionísio / Apollo and Dionysus, 1971
Da série Londres / From the series London
Esmalte sintético com revólver sobre tela / Synthetic enamel with spray gun on canvas 100 x 130 cm
1970-79
Aguilar arranca coisas do espaço cósmico, ele como que fotografa a aura psíquica não só das pessoas que retrata, mas das coisas, paisagens, mesmo das próprias abstrações Aguilar cons- trói o transcendente, fotografa a aura, daí a forma fantasmagórica de suas concepções, jogos de luz, luzes entrecruzando-se, mas luzes com calor humano, um espiritual muito quente, a aura, aquela emanação do corpo das coisas que nos conduzem a mistérios maiores.
Aguilar picks things from the cosmic space. He seems to take a snap shot of the psychic aura, not only of the people he paints, but of other things as well, such as landscapes and even of his own abstractions. He builds the transcendent, photographs auras, which explains his ghostly fig- ures, the lights interwoven with human warmth, a genuinely warm spirituality – an emanation of the substance of things that give way to greater mysteries.
Jorge Mautner

The magician, 1971
Da série Londres / From the series London
Esmalte sintético com revólver sobre tela / Synthetic enamel with spray gun on canvas
120 x 80 cm






A fila / The queue, 1974
Da série Transformação do tabu em totem / From the series The transformation of taboo into totem
Acrílica sobre tela / Acrylic on canvas
110 x 140 cm






I Ching, 1975
Da série Nova York / From the series New York
Óleo sobre tela / Oil on canvas 214 x 173 cm






Sem título / Untitled, 1975
Da série Nova York / From the series New York
Óleo sobre tela / Oil on canvas 180 x 220 cm






Detalhe da videoinstalação, XV Bienal Internacional de Arte, Pavilhão Ciccillo Matarazzo Sobrinho, São Paulo, 1979. / Detail of the video installation at the XV Internetional Art Biennial, São Paulo, 1979.




© José Roberto Aguilar, Inc. São Paulo, Brasil.