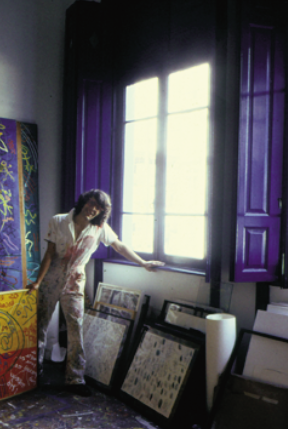 Howl, 1980
Acrílica sobre tela / Acrylic on canvas 160 x 160 cm
Seleção canarinho, 1980
Acrílica sobre tela / Acrylic on canvas
160 x 179,5 cm
Coleção Gilberto Chateaubriand, MAM, Rio de Janeiro / Gilberto Chateaubriand collection, MAM, Rio de Janeiro
Elegias do Duíno II / Elegies of Duino X, 1986
Da série Elegias do Duíno / From the series Elegies of Duino Acrílica sobre papel / Acrylic on paper
70 x 100 cm
Elegias do Duíno I / Elegies of Duino I, 1986
Da série Elegias do Duíno / From the series Elegies of Duino Acrílica sobre papel / Acrylic on paper
70 x 100 cm
Sem título / Untitled, 1990
Óleo sobre tela / Oil on canvas 200 x 200 cm
De Chirico e o surfista prateado / De Chirico and the silver surfer, 1989
Acrílica sobre tela / Acrylic on canvas 164 x 180 cm
1980-89
José Roberto Aguilar é um artista que tem o furor da criação. É óbvio que tenha decidido que pin- tar ou desenhar não é o suficiente. Nem quando faz apenas pintura e desenho. Os trabalhos expostos na galeria Paulo Figueiredo, são assim como tudo que Aguilar faz. Explosões incontidas da sua criatividade vulcânica e dionisíaca que rompem as costuras da própria proposta e vão muito além do discurso, do gesto ou da cor. São, eu diria, pelo forte sentido de identidade indivi- dual, a presença mesma do artista. Não apenas a sua possante assinatura.
José Roberto Aguilar is an artist with a fury for creation. Yet it is clear that he decided that paint- ing or drawing were not enough. Not even when he just paints or draws. The paintings shown at the Paulo Figueiredo Gallery ( at Rua Bela Cintra, 167) are just like everything else he does: unre- stricted eruption of volcanic and Dionysian creativity that challenge his own principles and go beyond words, gestures or color. I would say that, because of his keen sense of identity, the artist himself is his work, and not just his powerful signature.
© José Roberto Aguilar, Inc. São Paulo, Brasil.